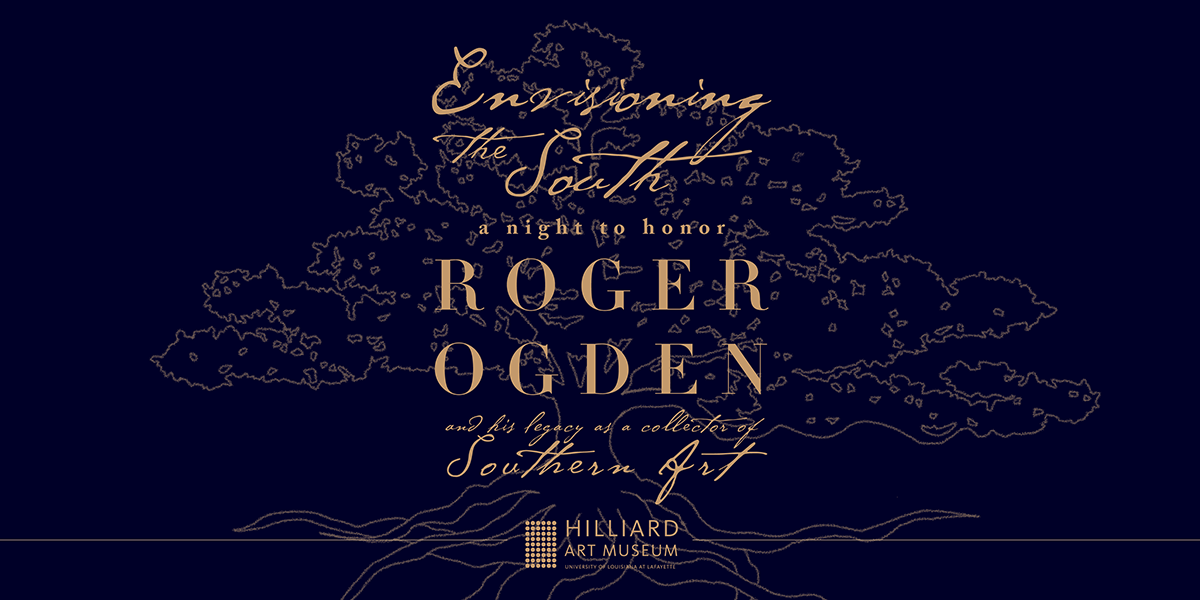 A NIGHT TO HONOR ROGER OGDEN
Join us for a "Night to Honor Roger Ogden" and his legacy as a collector of Southern Art
Thursday, January 19, 2023 6:00-10:00 PM
At the Hilliard Art Museum – University of Louisiana at Lafayette, 710 East Saint Mary Boulevard, Lafayette, LA 70503
Black tie optional
Cocktail reception, seated dinner prepared by Chef John Folse and White Oak Estate and Gardens and a preview of the exhibition, Envisioning the South: The Roger Houston Ogden Collection. Your ticket includes free admission to the half-day symposium on Friday, January 20 from 9:00 am to Noon at the LITE Center: Southern Aesthetics and Connoisseurship: In Conversation with Roger Ogden.
Accommodations are available at:
Maison Mouton: Room rates range $120-$180 Use code "Hilliard Art Museum" for 10% off 337-233-7816
Hilton Garden Inn Lafayette/Cajundome: Room rate is $109 - no code necessary 337-291-1977 DoubleTree by Hilton Hotel Lafayette: Room rate is $99 with no code necessary 337-235-6111
THIS NIGHT IS MADE POSSIBLE BY OUR SPONSORS:
Underwriter
Stirling Properties
Benefactor
Oats and Marino
Dr. Jay Culotta
Paul and Madlyn Hilliard
Haynie Family Foundation
Sponsor
Badger Energy, LLC
JohnPac
Bridget and Charles Boustany
The Helis Foundation
Sharon and John K. Hill
Dr. and Mrs. Henry Kaufman, IV
Art LeBlanc
Stephanie and Pete November
Kathryn and Jeffery Scurlock
Patron
Elaine Durbin Abell and Edward C. Abell, Jr
Jeanne Billeaud
In honor of Governor Kathleen Blanco
Marguerite and Greg Bordelon
Tiffa and Kerry Boutté
Paula and Russell Breaux
Colleen and John Chappuis
Dorothy Clyne
Becky and Wyatt Collins
Merilyn Crain
Rita Durio and Associates
Claire and Evan Edwards
Eskew Dumez Ripple
KiKi and Rick Frayard
Janet and Joel Gooch
Anne and Kevin Gossen
Phyllis and Billy Keaty
Cherie and Ralph Kraft
Tracy and Frank Neuner
Dr. Pat O'Brien, Ph.D. and Mr. Peter W. Patout
Debbie and Hank Perret
Ochsner Lafayette General Foundation
Preservation Alliance of Lafayette
Rosalind and Sam Robertson
Catherine and Matt Saurage
Susan and Louis Simon
Claude and Mimi Moyse Schlesinger
Dr. William "Kip" and Carolyn Doerle Schumacher
Bettie Skains Sonnier and Eileen Sonnier
University of Louisiana at Lafayette and the University of Louisiana at Lafayette Foundation
Jason Waguespack and Jeffery Morgan
Donald F. Voorhies
Donna and John Wright
In-Kind Sponsorship
The Times Picayune | The Advocate
Party Central
Chef John Folse & Company
Billy Heroman's Flowers
Clark Services Audio Visual & Exhibit, Inc
Sweet Magnolias
Louisiana Seafood Board
Sponsorship Opportunities
We are honored to invite you to celebrate Roger Ogden through our architectural and cultural preservation initiative. Your sponsorship will allow us to expand the Hilliard's vision to increase its impact among the campus and community while meeting the demand for arts education, programming, and community development for Southwest Louisiana.
UNDERWRITER $25,000
8 tickets with table seating to Gala
Recognition in printed program, full color
Acknowledgement in slide show, full-screen and color
Acknowledgement in opening remarks
Company logo featured as a presenting sponsor in all printed and electronic event materials
One year membership in the Corporate Membership program
One private, behind the scenes tour of the museum with the director or curator (20 persons maximum, date subject to availability)
One free rental of the A. Hays Town Building and Plaza or Hilliard Atrium for a private event (restrictions may apply)
BENEFACTOR $10,000
6 tickets with table seating to Gala
Recognition in printed program, full color
Acknowledgement in slide show, full-screen and color
Acknowledgement in opening remarks
Company logo in all printed and electronic event materials
One private, behind the scenes tour of the museum with the director or curator (20 persons maximum, date subject to availability)
One rental at 50% discounted rate of the A. Hays Town Building and Plaza or Hilliard Atrium for a private event (restrictions may apply)
SPONSOR $5,000
4 tickets with table seating to Gala
Recognition in printed program, full color
Acknowledgement in slide show, shared screen and color
Company logo in all printed and electronic event materials
One rental at 25% discounted rate of the A. Hays Town Building and Plaza or Hilliard Atrium for a private event (restrictions may apply)
PATRON $1,500
2 tickets to Gala with table seating

Recognition in printed program, full color
Acknowledgement in slide show, shared screen and color
Company logo in all printed and electronic event materials